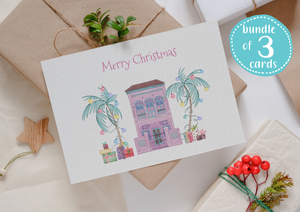 Livac Designs
Bundle - Pack of 3 cards - tropical Christmas pink house
Regular price
$24.00
Sale price
$30.00
Just the perfect greeting card for Singapore weather!  Our Tropical Christmas greeting cards. inspired by the gorgeous shophouses and our Tropical weather with a touch of Christmas vibes! 
--- Add a nice family photo and you are good to go to surprise grandparents and family all over the world-----
This is our Unique collection of greeting cards, inspired by the timeless elegance of shophouses. These unique and beautifully designed cards capture the essence of traditional architecture and add a touch of cuteness to your heartfelt messages.
🌟 What Makes Our Shophouse Greeting Cards Special:
Artistic Elegance: Our cards feature unique illustrations of shophouses, showcasing their architectural beauty and cultural significance.

Versatile Occasions: Perfect for a wide range of occasions, from birthdays and weddings to thank-yous and just-because moments.

High-Quality Printing: We take pride in the quality of our cards. Each one is printed on premium, texturised paper for a luxurious feel.

Personalization: Customize your message and add a personal touch, making every card a heartfelt gesture.

Unique Selection: Our shophouse collection is one-of-a-kind, making your greetings stand out from the rest.

Memorable: Send a card that's not easily forgotten. Our shophouse designs leave a lasting impression.
🛍️ Browse our online store to discover the full range of shophouse greeting cards and other  amazing and useful gifts,  Whether you're sending warm wishes to a loved one or simply want to appreciate the beauty of shophouse architecture, our cards are the perfect choice.
🎁 The Perfect Gift: These unique cards also make great gifts for friends and family who appreciate art, culture, and the beauty of shophouses.
this is a medium size  card 14.85cm x 21.5 cm - includes envelope 
---
More from this collection